MESSAGE FROM THE PRESIDENT
Dear TiE DC Friends:
I hope you and your families are all doing well in these challenging times. In the last several weeks, our world has changed drastically. We are in an unprecedented, uncharted territory both in our personal and professional lives. While social distancing and remote work have become the new normal, businesses and enterprises (small to big) are trying to keep the machinery going. Besides, the economic angle, the sheer logistics of keeping companies operational has become a huge task.
Despite the on-going pandemic, I have been impressed, and frankly moved, by the number of initiatives being taken by industry leaders, including several of my business community peers to support our communities personally. As difficult as it is trying to navigate through this incredible phase, I encourage all of you to do what you can for those in need. Reach out to friends and family, check in on neighbors – increase the human connection.
In our effort to serve the community through this difficult time, TiE DC continues to bring meaningful and relevant virtual events for local small businesses and our members at large.
Several of TiE DC's board member companies partnered with the nonprofit organization
Sevatruck Foundation
to serve hot meals to the underserved and low-income DMV communities disproportionately affected by the pandemic. If you or your company wants to set up a corporate program for a few days or weeks or more, reach out to us, and we will be happy to get you connected with the Sevatruck team. You can also donate towards this noble cause by clicking here.
Have you furloughed or laid-off workers, or lost a job yourself, because of COVID-19 restrictions? Check out companies hiring now on
www.workinnorthernvirginia.com
. The new website, launched by the Fairfax County Economic Development Authority (FCEDA), also includes the industries growing in Northern Virginia and resources to help upskill employees.
Click here
to go to the COVID-19 Job Resource page.
Thank You, FCEDA, for your partnership.
We are all in this together!
#TiEDcCares
---
UPCOMING EVENTS
May 28th, 12-2pm
TiE DC Business Series Event: Startup Mentoring
Come hear about strategies from seasoned & successful Mentors who are serial entrepreneurs, thought leaders, angels, and VC's on how to navigate the tough time, staying afloat, sustaining, and (re)building business.
The session will include a 60-minute panel discussion and Q&A with the panelists (open to all participants) followed by 15-30 mins of one-on-one mentoring sessions for preregistered and selected* / early-stage companies.
Learn about ticket options, signing up to be a mentee and mentor at Startup Mentor Event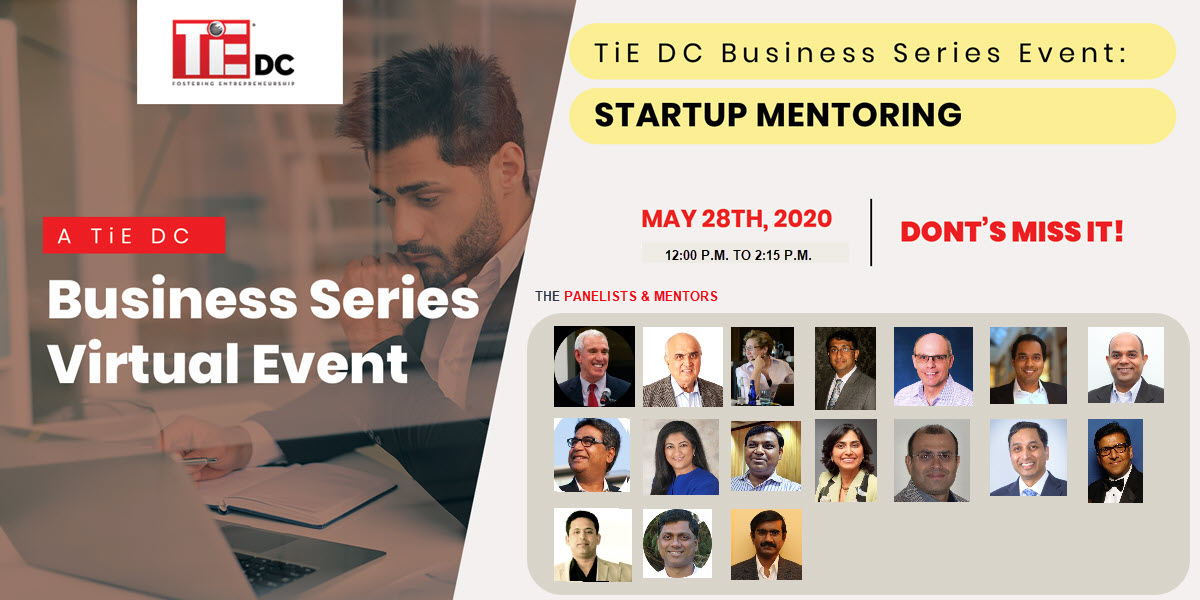 Leadership In these Tough Times – A Premier TiE DC Event with Steve Farber
Steve Farber is the president of Extreme Leadership, Incorporated, and the founder of The Extreme Leadership Institute, organizations devoted to the cultivation and development of Extreme Leaders in the business community, non-profits and education. His third book, Greater Than Yourself: The Ultimate Lesson In Leadership, was a Wall Street Journal® and USA Today® bestseller. His second book, The Radical Edge: Stoke Your Business, Amp Your Life, and Change the World, was hailed as "a playbook for harnessing the power of the human spirit."  And his first book, The Radical Leap: A Personal Lesson in Extreme Leadership, is already considered a classic in the leadership field. It received Fast Company magazine's Readers' Choice Award and was recently named one of the 100 Best Business Books of All Time.
---
RECENT EVENTS RECAP
WEBINARS
On Tuesday, February 18
th
, Jagan Tamirisa presented a webinar to TiE DC members and friends on Immigration, Mobility and H-1B Visas. Jagan Tamirisa is an immigration professional with more than 17 years of experience in filing all categories of employment based immigrant and nonimmigrant visa petitions. Thank you to CHUGH for sponsoring this event.
On Tuesday, March 17
th
, Neel Gopalani presented a webinar on Cybersecurity Maturity Model Certification (CMMC).
Neel is a co-founder and COO at Aristi Technologies, Inc. He is responsible for business development, project delivery and consulting services in the areas of cybersecurity and cloud application development. He educated our registrants on all aspects of CMMC. Thank you to Aristi Technologies for sponsoring this event.
TiE ANGELS MEETUP:
Charter Members, Members and guests got together on February 27th at Unissant for a networking lunch to hear pitches from Startups from the DC Metro area as well as India. This vibrant discussion was also a chance for all to learn more about the TiE Global Angel Alliance (TGAA). Speakers shared their experience with Angel investing and TGAA.
BUSINESS SERIES EVENT:
How to Manage Business Risk, Growth & Continuity in these Unprecedented Times.
On April 9
th
, TiE DC invited top local C-suite executives to share their experiences during this unprecedented economic crisis happening as a the COVID-19 pandemic health crisis continues. 
Discussions revolved around current and long-term objectives. Legislation opportunities and the importance of contingency planning were hot topics during this lively virtual event. Thank you to C2 Technologies for sponsoring this event.
TiE TUESDAY: TECH FOR THE NEXT DECADE
On March 31
st
TiE DC had to pivot this in-person event to a virtual technology showcase featuring a highly interactive cutting-edge technology to nearly 200 registrants.
AI in security, Augmented and Virtual Reality products and applications, the impact of 5G and more were featured at this exciting and informative event.
---
TIE YOUNG ENTREPRENEURS (TYE) PROGRAM UPDATE
This year's final TYE 2020 Bootcamp competition was held virtually on Sunday, April 25
th
, fo
llowed by a virtual TYE Awards Ceremony and Final Results Announcement. Congratulations to all of our young entrepreneurs!
Congratulations to the Winning Team! And to all young entrepreneurs who participated in the Bootcamp this year. 
Piezoboard – The keyboard that powers itself
Team Piezoboard (1st prize winners):
Vinay Ayala, Rajan Chida, Aashvi Shah, Sadhana Thirumazhusai, Tulasi Venkat
The Second Prize Winner was:  
QuikRide - A virtual reservation service for amusement parks across America
Team QuikRide (2nd prize winners):
Tarika Dhillon, Shaniya Millington, Eshan Mathur, Rithik Puli, Krishna Rani, Jack Sircus
Additional prizes included:
Best Teamwork: Shine - A high-end accessory subscription service
Best Elevator Pitch: Shine - A high-end accessories subscription service
Best Product Demo: Piezoboard – The keyboard that powers itself
Team Shine (best elevator pitch & teamwork winners):
Suhani Malhotra, Rishika Botlaguduru, Nick Mumm, Sonia Naik, Arvin Balani
Thank you to the 2020 TYE Organizing Committee for another successful Bootcamp:
Suryaraj Jain, Mahesh Joshi, Sumeet Luthra, Kavita Priyadarshy, Pallabi Saboo, Ashoka Tankala
Thank you all of our TYE sponsors!
---
2020 BOARD OF DIRECTORS - WELCOME TO NEW MEMBERS
It is my pleasure to welcome Frank Bonsal III and Mark Emery to the TiE-DC 2020 Board of Directors as two of our President appointed Board of Directors positions. We are excited to have them and look forward to working with them. These members will serve for a one-year period from January 1, 2020 - December 31, 2020.
Frank Bonsal III
Frank is a pioneer in the fields of education innovation, technology, and investment. With decades of experience as an educator, venture capitalist, and startup ecosystem leader, Bonsal has demonstrated sustained empathy for the education end user. He mentors or advises several education and entrepreneurship organizations and is a frequent panelist and speaker. His direct investment experience includes 30 education companies, with over half-realized and tens of millions positively impacted. His board experience includes ten edtech companies and seven education nonprofits.
He began his career as a teacher and coach in U.S. middle and high school settings and with immersive experiences in Japan and the United Kingdom. He received his M.Ed. And M.B.A. from Vanderbilt University, and a B.A. with honors from the University of New Hampshire. He currently resides in Baltimore.
Mark has led and shaped a wide variety of technology organizations in both business and government adopting leading edge technology, organization, and process innovations. From his consulting practice he has launched several new businesses, including WNP Communications and PingTone Communications; he now provides similar advice and leadership as a consultant to organizations involved with the federal sector.
He managed a $400M portfolio of Department of Homeland Security contracts for a large systems integrator. Mark introduced agile development, cloud computing, and DevOps to his portfolio averaging a 20% annual growth rate over 5 years. As a Senior Executive at the Department of Homeland Security, Mark supervised the green field start-up and operation of the Transportation Security Administration network and application infrastructure and the modernization of FAA systems to the new applications services. He also established the Department of Homeland Security's $2B/year infrastructure consolidation program. Prior to his government service he designed and built the first integrated voice - data - messaging mobile service in the United States, Sprint Spectrum, which won the JD Power Quality Award.
---
Below please find a list of TiE DC's current committees and the member that will lead each.
Annual Gala Committee: Pallabi Saboo
Emerging Tech/Cyber Committee: Praba Murugaiah
Events Planning Committee: Manish Malhotra
Finance Committee: Sundi Natarajan
GovCon Committee: Manish Malhotra
Membership Committee: Ravi Puli
Sponsorship Committee: Pallabi Saboo
TiE DC Angels Committee: Rajesh Rai
TYE Program Committee: Summit Luthra
---
CALENDAR OF UPCOMING EVENTS
Stay Tuned For more information about our Upcoming Events (to be announced soon):
Women Who Inspire – September 2020
3rd Annual GovCon – October-November 2020
Annual TiE DC Gala – December 2020