MESSAGE FROM THE PRESIDENT
Dear Friends of TiE DC –
It goes without saying that 2020 has been a year like no other in modern times. As we navigated the year, the resilience of the human spirit and the determination and selfless sacrifice of countless individuals provided a much-needed inspiration of hope. As we reflect on the past year, our thoughts are foremost with those most impacted by the pandemic.
As we close the year, I want to thank all the esteemed board members for their hard work with a common goal to achieve continued success for y(our) chapter. Each one of them helped enhance our agenda that set the stage and momentum of TiE-DC activities related to education, mentoring, networking and investing. I feel fortunate to have worked alongside such an excellent dedicated team of highly accomplished individuals who are committed to giving back to the community.
Despite such a challenging year, we were successful in keeping TiE DC not just relevant but managed to take its programming to the next level. Some of our key accomplishments in 2020 included:
Increased focus on making the chapter financially healthy by organizing several marquee events that attracted multiple sponsors
Established new long-term strategic partnerships
Re-organized the chapter with a structured approach to sponsorships, virtual event management, and other management processes
Institutionalized the TiE Young Entrepreneurs (TYE) program to make it more of a professionally run enterprise within TiE DC – that resulted in a very successful 8-week session culminating in a successful competition of great companies
During my tenure, we successfully launched the new TiE Women Who Inspire event series as well as the new TiE Diversity and Inclusivity event series
In continuation with our increasingly fruitful relationship with India's Embassy, we hosted a virtual business roundtable, with the Ambassador, H.E. Mr. Taranjit Singh Sandhu
GovCon 2020 our marquee event was the most successful event with over 400 registrations and over 65+ speakers from various government agencies and industries. The increase in our sponsorship after this event is a testimonial to its success
Congratulations to the entire TiE DC Team for a successful 2020!. A special thanks to our Executive Director Jennifer Fortney and the entire RMK Productions team without whose support we would not have been where we are today.
As I end my tenure as the 2020 TiE DC chapter President, I take this opportunity to personally thank all TiE DC members for your commitment to this organization. Your continued support, participation, and trust have enabled us to achieve new heights and make TiE DC one of the most successful chapters in the TiE organization. I now look forward to working with Sundi Natarajan, 2021 TiE DC President, and Pallabi Saboo, 2021 President-Elect to continue our momentum forward.
Best wishes for a wonderful holiday season and a very Happy New Year to the entire TiE DC community. May the good things of life be yours in abundance throughout the coming year.
With warm personal regards,
Manish Malhotra
TiE DC President
---
TiE DC 2021 BOARD OF DIRECTORS
Elections were held for the President-Elect and Board of Directors positions of TiE DC, consisting of ten (10) seats.  The President-Elect (PE) will serve on the Board as PE from January 1, 2021, through December 31, 2021, then as President from January 1, 2022, through December 31,  2022. The Board of Director's term is a one-year term from January 1, 2021, through December 31, 2021.
PRESIDENT (2020 PRESIDENT-ELECT)
PRESIDENT-ELECT
BOARD OF DIRECTORS (ELECTED)
Manish Malhotra (Ex-Officio)
Srini Bayireddy
Mahesh Joshi
Sumeet Luthra
Prabakaran Murugaiah
Juhi Naithani
Raj Patil
Ravi Puli
Rajesh Rai
Sumeet Shrivastava
Shiva Thirumazhusai
---
CAPITAL GOVCON 2020: MARQUEE EVENT
TiE DC's Capital GovCon 2020 was held on November 4 - 6, 2020. Our event was a tremendous success with over 67 speakers and moderators and over 400 registered attendees. Thank you to our GovCon Planning Committee for all of your hard work!
---
2020 MAJOR EVENTS UPDATE
TiE DC HOLIDAY PARTY
On December 8, over 70 Members, Guests and Non-Members joined together for a Virtual Holiday Party over Zoom. Attendees enjoyed a virtual game night, toast to the new year, and heard from our President. Thank you to JP Morgan for sponsoring this fun event.
VIRTUAL BUSINESS ROUNDTABLE
On October 8, we were honored to host a Virtual Business Roundtable with Indian Ambassador to USA, H.E. Mr. Taranjit Singh Sandhu. The event was moderated by Board Member, Ravi Puli.
TiE DC DIVERSITY & INCLUSIVITY EVENT
On September 22, TiE DC hosted a Diversity Event. This was an insightful discussion with successful business leaders from our Black Community as they shared their experiences.
THE DATA DILEMMA
On August 27, TiE DC and the Harvard Business School Club of Washington, DC Presented: The Data Dilemma: Data is Growing Exponentially, Business Dynamism is Slowing – Why?
WOMEN WHO INSPIRE
On August 6, TiE DC celebrated Women Who Inspire to 100+ attendees. After an invigorating and inspiring talk from Kay Koplovitz (Co-founder & Chairman, Springboard Growth Capital and Springboard Enterprises, Founder & former Chairman & CEO, USA Networks), TiE hosted a distinguished panel with Bobbie Kilberg, Molly Shea, Ann Ramakumaran and Kathryn Freeland.
LEADERSHIP IN TOUGH TIMES
On June 18th, Steve Farber presented: Leadership In these Tough Times.
Steve Farber is the president of Extreme Leadership, Incorporated, and the founder of The Extreme Leadership Institute, organizations devoted to the cultivation and development of Extreme Leaders in the business community, non-profits and education.
STARTUP MENTORING
On May 28th with nearly 300 registrants, TiE DC Startup Mentor event was a bustling affair. This event featured 20+ Startup companies who were mentored by leading business leaders in the DC area.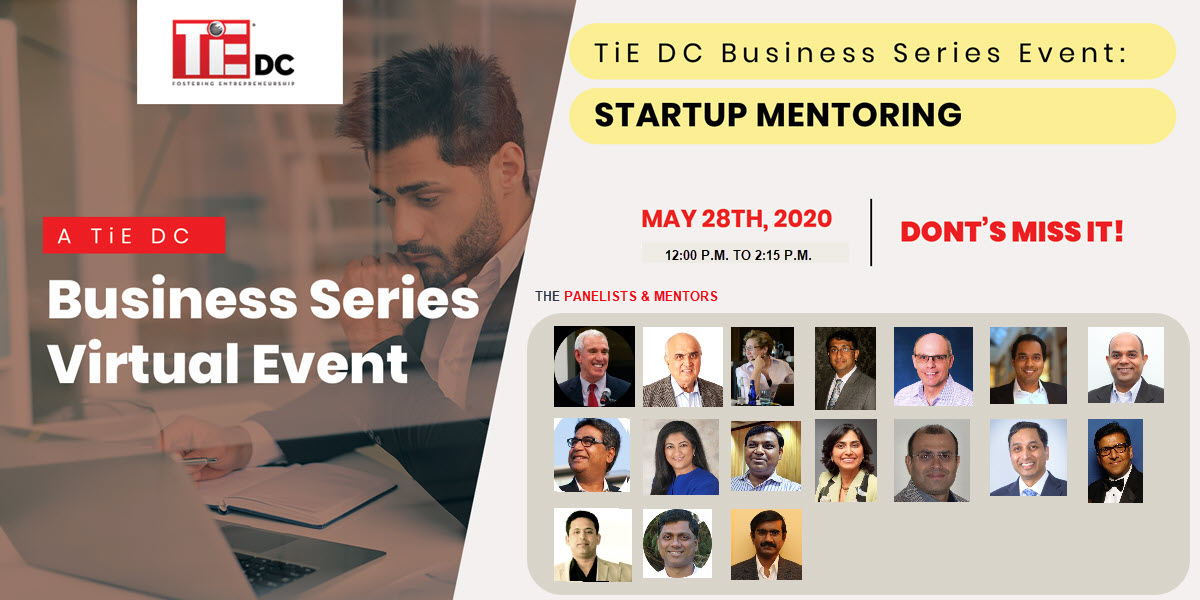 HOW TO MANAGE BUSINESS RISK, GROWTH AND CONTINUITY IN THESE UNPRECEDENTED TIMES
On April 9th, TiE DC invited top local C-suite executives to share their experiences during this unprecedented economic crisis happening as a the COVID-19 pandemic health crisis continues.
TECH FOR THE NEXT DECADE
On March 31st TiE DC had to pivot this in-person event to a virtual technology showcase featuring a highly interactive cutting-edge technology to nearly 200 registrants.
CYBERSECURITY MATURITY MODEL CERTIFICATION
On Tuesday, March 17th, Neel Gopalani presented a webinar on Cybersecurity Maturity Model Certification (CMMC).
IMMIGRATION MOBILITY & H-1B VISAS
On Tuesday, February 18th, Jagan Tamirisa presented a webinar to TiE DC members and friends on Immigration, Mobility and H-1B Visas.
MEMBER MIXER WITH GUEST, JOHN HILLEN
Our January Member Mixter featured Guest Speaker, John Hillen. John is the author of "What Happens Now?: Reinvent Yourself as a Leader Before Your Business Outruns You". More than 50 members and guests attended this event held at Sapphire in Tysons.
MEET & GREET WITH THE AMBASSADOR
TiE DC was thrilled to host a Farewell luncheon for His Excellency, The Ambassador of India, Mr. Harsh Vardhan Shringla. The event was held on January 3rd at The Capital Grille.
TYE is a global program dedicated to fostering future generations of industry leaders by teaching high school students the rewards and challenges of becoming an entrepreneur. TYE is an "Entrepreneurship Academy," where student teams utilize modern skills and tools to build a concept using customer feedback, iteration, and lightweight business models.
---
REMINDER: CHARTER MEMBER BENEFITS
TiE Charter Member Smart Card
Another benefit for the Charter Members is TiE CM Smart Cards. TiE Charter Member Smart Card, a virtual card that was issued to all Charter Members globally. The card helps CM's to network one on one, search and register for events, participate in Group Chats / SIGs, avail offers and get TiE News & Musings on a regular basis. Here is a link to a video prepared by TiE Global on this initiative.
https://drive.google.com/file/d/13NPVk9W9e1z0XaEr8ByPJJ38x55XHAhr/view
---
THANK YOU TO OUR 2020 SPONSORS
---
JOIN TiE DC TODAY
Expand Your Network While Giving BackWHY JOIN TIE DC? TiE is among the largest entrepreneurship organizations in the world, with a vast global network of 12,000 entrepreneurs, serial entrepreneurs, business leaders, domain experts and mentors. CLICK HERE for additional information on the TiE Advantage and why you should join today!
CHARTER MEMBER $2,000/2-Years

For: Founders, CEOs and CXOs of growing companies with at least ~$5M in revenue or $10M in venture investment

Benefits:

FREE registration for TiE DC events

Invitations to exclusive TiE Global professional and social events for Charter Members

Access to a global network of peers and mentors

MEMBER (Emerging Entrepreneurs & Professionals)

$200/Year

For: Earlier-stage company leaders and entrepreneurs, and professional service providers

Benefits:

Discounted or FREE registration for TiE Tuesday events
Invitations to exclusive TiE DC networking and professional development programs

EXECUTIVE MEMBER/SPONSOR - CORPORATE MEMBER

$5,000/Year

For: Senior executives of professional services companies supporting entrepreneurs

Benefits:

FREE registration for TiE DC events
Invitations to exclusive TiE DC programs with Charter Members
4 Memberships per company